Development
research and development for interactive installations
01.06.2017
Le son au bout des doigts is an installation shown 1.6.–18.6. at the Centre Pompidou and part of Ircam's Manifeste festival.
It offers a playful, interactive, sonorous and visual journey for children ages two and up. Through manipulations and listening, the children's sight and hearing is solicited. In Topo-phonie Café imagined by B. MacFarlane, the children are guided by a game of organic structures. They set special tables that create sonorous suprises.
With DIRTI developed by User Studio/Matthieu Savary, when children sink their hands in different materials that fill interactive tubs they set off sounds and images.
For  Topo-Phonie café I developed a new interaction method with a table, based on gesture recognition technology by the ISMM team and contact interaction.
For the Dirty Tangible Interfaces (DIRTI), I ported the sound engine to a Linux SBC and adapted the Mac software for the quadrophonic DIRTI XL.
See this article on France Musique for an appreciation.
01.10.2016
15.09.2015
30.06.2014
Create music and graphic animation with expressive gestures, mold sonic landscapes by plowing through tapioca beads with the Dirty Tangible Interfaces!
DIRTI is installed at the 14th International Conference on
New Interfaces for Musical Expression (NIME)
30 June – 4 July 2014
New Academic Building, 1st floor Mezzanine, Goldsmiths, University of London.
07.06.2014
Xerocks by Cécile Babiole (also part of NXNE)
June 7, 2014 to July 13, 2014
Presented by New Adventures in Sound Art (NAISA) in partnership with the Consulate General of France in Toronto.
Xerocks is an interactive installation designed to turn two copying machines into musical instruments. Press a button on the machine and that will trigger a copying cycle, simultaneously generating a sequence of sounds. By (mis)appropriating and thereby alienating this familiar piece of office equipment, Xerocks ironically morphs an imaging apparatus into a sound production device. Read the rest of this entry »
23.05.2014
10.01.2014
DIRTI for iPad, the world's first tapioca interface, lets young children control an audiovisual experience by playing with a bowl of tapioca.
The project has been nominated for the prestigious IxDA interaction design awards, and the people's choice award is now open for voting by going to http://awards.ixda.org/entry/2014/dirti-for-ipad/vote.
11.10.2013
Franck Leibovici & Diemo Schwarz present a sound installation derived from the PANDA mini-opera for non-musicians as part of the show ISLAND at the Dairy Art Centre, London.
11 October – 8 December 2013
Artists' List:
Ai Weiwei, John Armleder, Sylvie Auvray, Tom Benson, Valentin Carron, Jake and Dinos Chapman, George Condo, Ann Craven, Thomas Demand, Fang Lijun, Urs Fischer, Théodore Fivel, Sylvie Fleury, FOS, Cyprien Gaillard, Gunjan Gupta, Anthea Hamilton, Thilo Heinzmann, Terence Koh, Sergej Jensen, Rashid Johnson, Per Kirkeby, Adriana Lara, Franck Leibovici & Diemo Schwarz, Ursula Mayer, Takashi Murakami, Order of the Third Bird, Jagannath Panda, Mai-Thu Perret, Sigmar Polke, Laure Prouvost, R.H. Quaytman, Ugo Rondinone, Sterling Ruby, Tomàs Saraceno, Julian Schnabel, Cindy Sherman, Dirk Skreber, Haim Steinbach, Rirkrit Tiravanija, Thukral and Tagra, Andro Wekua, Douglas White, Zeng Fanzhi.
17.07.2013
Dirty Tangible Interfaces (DIRTI) are a new concept in interaction design that forgoes the dogma of repeatability in favor of a richer and more complex experience, constantly evolving, irreversible & infinitely modifiable. The video resuming 4 days of experimentation with a tangible interface and iPad app specially designed for kids at the Maison des Petits of the cultural centre CENTQUATRE in Paris is now online.
12.07.2013
Video documentation of the Journées Arts-Sciences at Printemps de la Culture 2012 of Orsay featuring the interactive sound and video installation ACCLRTR with Ianis Lallemand, situated in the former collider ring ACO Science at Orsay University. ACCLRTR appears from 19:11 in the first video documenting the installations, and interspersed in the second video documenting the setup. More videos of the event are on http://webtv.u-psud.fr/
19.05.2013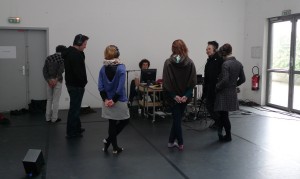 PANDA mini-opera for non-musicians by Franck Leibovici and Diemo Schwarz at the Printemps des Laboratoires d'Aubervillers: Read the rest of this entry »
26.02.2013

Christian Delécluse, soirée *di*/zaïn #5 : code… par soireesdizain