CataRT
30.10.2019
In collaboration with the Cultural Services of the French Embassy in the United States, the Georgia Tech School of Music is establishing strong links in research and education with France's IRCAM Institute.
IRCAM researcher and musician Diemo Schwarz will perform a concert with electronic musician and Georgia Tech researcher Grace Leslie. During this performance, brain waves will steer the musical voyage through a landscape of sounds and tangible embodied interaction will articulate and reshape the musical material.
France-Atlanta festival, Oct 30, 7:00 PM, West Village Room 175, Georgia Tech, http://france-atlanta.org/
19.07.2018
17–21.7.2018: 5-day CataRT workshop by Diemo Schwarz, Mikhail Malt featuring Alexis Baskind, Aaron Einbond, Christopher Trapani.
19.7.2018: improvisation concert by Diemo Schwarz (elec), Alexis Baskind (cb)
49th Darmstadt Summer Course for New Music
23.11.2014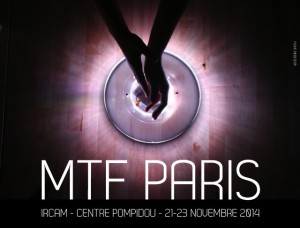 At the bustiling three-day Music Tech Fest in Paris, 21.–23.11.2014, there will be a CataRT showcase-cum-concert at 18:00, where Diemo Schwarz will be improvising with the sounds produced by the audience. Read the rest of this entry »
07.06.2014
Xerocks by Cécile Babiole (also part of NXNE)
June 7, 2014 to July 13, 2014
Presented by New Adventures in Sound Art (NAISA) in partnership with the Consulate General of France in Toronto.
Xerocks is an interactive installation designed to turn two copying machines into musical instruments. Press a button on the machine and that will trigger a copying cycle, simultaneously generating a sequence of sounds. By (mis)appropriating and thereby alienating this familiar piece of office equipment, Xerocks ironically morphs an imaging apparatus into a sound production device. Read the rest of this entry »
08.07.2012
Since about 5 years, CataRT is used extensively as a performance instrument by myself and other musicians, and has stabilised and been tried and tested in many performances.  This is why the Inventor Composer Coaction call for new instruments was a welcome occasion to present this instrument to a wider audience, and to advance towards a systematic assessment of how to play and compose with CataRT.
To this end, the CataRT as an Instrument page collects the links to sound and video examples demonstrating CataRT as an expressive performance instrument.
Since CataRT must be seen as a whole family of possible instruments, around the core concept of the timbral sound space that is played by navigation, the actual instrument is determined by the controller that steers the navigation.
12.02.2012
Dirty Tangible Interfaces are a new concept in interaction design that forgoes the dogma of repeatability in favor of a richer and more complex experience, constantly evolving, irreversible & infinitely modifiable.
Dirty Interfaces is a concept by Matthieu Savary & Denis Pellerin. Movement analysis and CataRT sound synthesis by
Diemo Schwarz. Developed within the Topophonie project.
11.02.2012
CataRT has been chosen out of 29 submissions of new musical instruments by 2 upcoming composers within the Inventor Composer Coaction.  Jessica Aslan and Christos Michalakos will both write a piece for CataRT and the Red Note ensemble, to be premiered May 9 in Edinburgh.
05.10.2011
Nat Roe at cult freeform radio station WFMU has discovered CataRT in this blog post about chartsweeps (mashups of years of Top-10 songs compressed into one piece of music (? / sound / deflagration?)).
17.12.2010
Presentations, discussions, and a concert of Diemo Schwarz and Vincent Rioux about sample manipulation at /dev/art, BlackBoxe, Paris 18e.
Program to be finalised.
Rencontres, discussions et échanges entre artistes et développeurs
utilisant les nouvelles technologies de programmation (arts
numériques, hacking, performances, etc.).

BlackBoxe (Theatre de Verre)
17 rue de la Chapelle / 75018 Paris
Metro ligne 12 / Station Marx Dormoy ou Porte de la Chapelle

27.06.2009
Xerocks is an installation by video and sound artist Cécile Babiole designed to turn two copying machines into musical instruments.
Development and adaptation of the real-time sound synthesis system CataRT by Diemo Schwarz for audio analysis and granular (re)composition of the 4 audio channels from the photocopiers by navigation through descriptor space.
On Show : 27 June 2009 at Espace culture et multimédia Gantner (CG90) in Bourogne. Exhibition until 12 September 2009.
31.08.2005
The real-time corpus-based concatenative sound synthesis system CataRT plays grains from a large corpus of segmented and descriptor-analysed sounds according to proximity to a target position in the descriptor space. This can be seen as a content-based extension to granular synthesis providing direct access to specific sound characteristics.
CataRT is implemented in MaxMSP and takes full advantage of the generalised data structures and arbitrary-rate sound processing facilities of the FTM and Gabor libraries. Segmentation and sound descriptors are loaded from text or SDIF files, or analysed on-the-fly.
CataRT allows to explore the corpus interactively or via a target sequencer, to resynthesise an audio file or live input with the source sounds, or to experiment with expressive speech synthesis and gestural control.
CataRT is available from the IRCAM Real-Time Musical Interactions Team's web site.