video
12.09.2023
ONCEIM collective creation at Impromptissimo!, Maison de l'Ile de France, Cité Universitaire, Paris, invited by Fred Marty.
https://www.youtube.com/watch?v=wgWuNSIRAQA
22.04.2023
Atelier Tampon Nomade @ Les Temps du Corps
10 rue de l'échiquier, 75010 Paris
19h30 ouverture portes, 20h solo
elisabeth ROSSÉ violon & voix
puis duo
françois WONG saxophone baryton
diemo SCHWARZ électroniques
bUvEtTeDyNaMiQuE
Read the rest of this entry »
22.12.2022
Video teaser of a performance for audio–visual concatenative synthesis and violin in the planetarium of the Marseille Observatory, 14th June 2022
Diemo Schwarz (electronics, visuals), Patricia Bosshard (Stroh violin)
Linked to the conference Écouter–voir: relations image–son dans la musique
IMéRA Arts, Sciences and Societies Fellowship Program, Aix-Marseille Université
Observatoire de Marseille, Association Andromède
Video by Roxane Gilly-Roux & Hugo Boireau
30.06.2022
Diemo Schwarz – François Wong at DATA / Marseille
Jeudi 30 juin 2022
Concert : 19h00 > 22h • Entre trois et six euros
Data, 44, rue des bons enfants, 13006
Read the rest of this entry »
23.03.2022
I will play percussion with ONCEIM for  Eliane Radigue's Occam Ocean XXV and electronics at Patricia Bosshard's Sillons at Maerzmusik festival, Berlin Philharmonic.

Éliane Radigue`s first piece for orchestra "Occam Océan" marks the third work period of the music pioneer and is at the same time an example of collective knowledge transfer through oral and aural transmission – embodied and performed by members of Klangforum Wien together with ONCEIM.
The festival is streamed live and archived here.
20.03.2022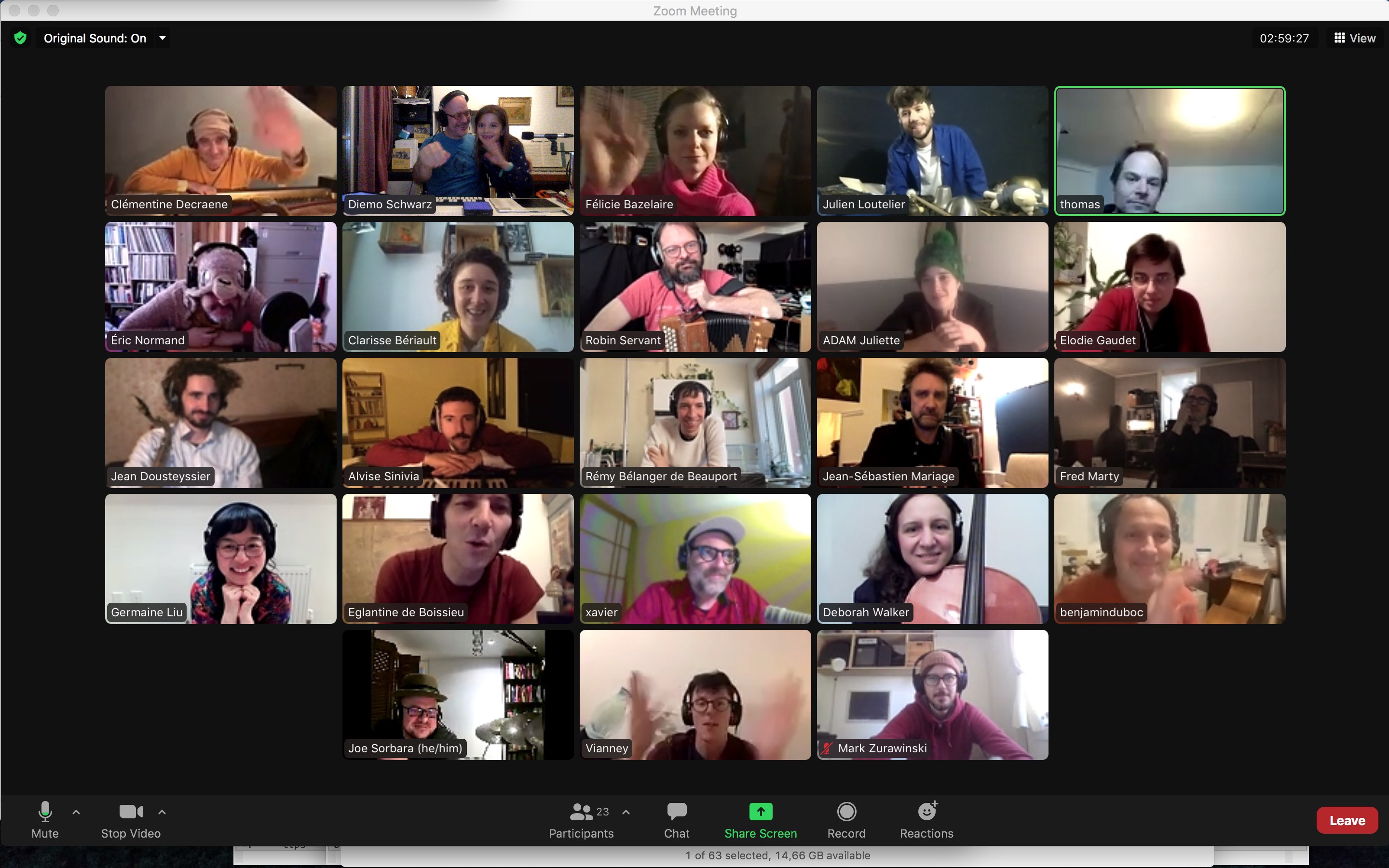 Collective online performance
see the video at Suoni per il popolo festival (Montreal).
Dans le cadre de Grandes Marées, Quarantine Playground de Germaine Liu et Joe Sorbara est une pièce conçue et créée sur Zoom par webcam interposées le 16 janvier 2022, pour être ensuite diffusée sur TéléSuoni, la chaîne du festival Suoni per il popolo (Canada). Découvrez cette nouvelle œuvre collective issue de la collaboration entre l'Onceim et ses confrères canadiens du GGRIL.
La diffusion sera précédée d'un temps d'échange en ligne avec Frédéric Blondy et Joe Sorbara.
> Connectez-vous le 20 mars, à 20h,  pour visionner la retransmission.
24.05.2021
Collective improvised creation Laminaire at the 50th Moers Festival, Moers, Germany.
Streamed live and recorded by Arte TV.
18.04.2021
I will play percussion with ONCEIM for  Eliane Radigue's Occam Ocean XXV and electronics at Patricia Bosshard's Sillons at festival Archipel, Palais du Pleinpalais, Geneva.
The festival is streamed live and archived here.
30.10.2019
In collaboration with the Cultural Services of the French Embassy in the United States, the Georgia Tech School of Music is establishing strong links in research and education with France's IRCAM Institute.
IRCAM researcher and musician Diemo Schwarz will perform a concert with electronic musician and Georgia Tech researcher Grace Leslie. During this performance, brain waves will steer the musical voyage through a landscape of sounds and tangible embodied interaction will articulate and reshape the musical material.
France-Atlanta festival, Oct 30, 7:00 PM, West Village Room 175, Georgia Tech, http://france-atlanta.org/
02.02.2017
Video documentation of Le Cercle, circular orchestra, Maison de la Culture du Japon, Paris.
Gaël Mevel violoncelle, composition
Jacques Di Donato clarinette
Thierry Waziniak percussions
Nicolas Nageotte clarinette basse
Jean-Luc Cappozzo bugle et trompette
Diemo Schwarz création electroacoustique
Daniel Lifermann flute shakuhachi
Le Cercle, a unique orchestra which offers the listener a truly original sensory and artistic experience. The musicians are placed in a circle around the audience who thus find themselves at the heart of the music as it is being made.
07.11.2015
Solo concert and improvisation with Simone Mancuso, Garth Paine, Justin Kennedy at the Prisms Contemporary Music Festival "Boulez Legacies":
Offering the highest-quality performances of experimental music in the Phoenix metropolitan area, the annual Prisms Festival is comprised of themed concerts and showcases music that is rarely performed, along with pre-concert talks, round tables, film screenings, and workshops. The goal of the festival is to promote the view that music is a living tradition – an exciting and vibrant part of modern life – and to pass on that belief by combining performances with informative lectures and discussions for ASU's students, the local art and music communities and the general public.
The concert video is here, Diemo Schwarz's solo piece starts at 1h15 after the intermission, followed by an improvisation with Diemo Schwarz (live-input CataRT), Garth Paine (flute), Justin Kennedy (Mongolian throat singing), Simone Mancuso (percussion) at 1h41.
Katzin Concert Hall, School of Music, Herberger Institute for Design and the Arts, Arizona State University, Phoenix, USA.
10.01.2015
Galerie Thaddaeus Ropac Paris Pantin
27 Nov 2014 – 10 Jan 2015
http://ropac.net/exhibition/camino-del-sol
Sylvie Fleury presents Camino del Sol, a new sound and dance performance project at Galerie Thaddaeus Ropac Paris Pantin. The exhibition that follows reveals the set for the performance and some of its leftover materials.
Originally inspired by Fluxus performance, where simple, repeated actions produced sounds, Fleury's performance, with its own aesthetic premise, incorporates gestures from everyday life revealing the vibrational presence of individuals. The set-up allows for the poetic, the sonic and sometimes the absurd to bloom.
Read the rest of this entry »
28.10.2014
A concert in the nicest and oldest impro place in Amsterdam: Zaal 100.  facebook event
PA Tremblay (electrique bass + electronics, Huddersfield)
Diemo Schwarz (Gesture controlled CataRT, Paris)
Stephan Reidl (acoustic bass + electronics)
Dirk Bruinsma (sax + electronics)
Hans Leeuw (electrumpet)
Alan Purves (percussion)
Read the rest of this entry »
10.01.2014
DIRTI for iPad, the world's first tapioca interface, lets young children control an audiovisual experience by playing with a bowl of tapioca.
The project has been nominated for the prestigious IxDA interaction design awards, and the people's choice award is now open for voting by going to http://awards.ixda.org/entry/2014/dirti-for-ipad/vote.
17.07.2013
Dirty Tangible Interfaces (DIRTI) are a new concept in interaction design that forgoes the dogma of repeatability in favor of a richer and more complex experience, constantly evolving, irreversible & infinitely modifiable. The video resuming 4 days of experimentation with a tangible interface and iPad app specially designed for kids at the Maison des Petits of the cultural centre CENTQUATRE in Paris is now online.
12.07.2013
Video documentation of the Journées Arts-Sciences at Printemps de la Culture 2012 of Orsay featuring the interactive sound and video installation ACCLRTR with Ianis Lallemand, situated in the former collider ring ACO Science at Orsay University. ACCLRTR appears from 19:11 in the first video documenting the installations, and interspersed in the second video documenting the setup. More videos of the event are on http://webtv.u-psud.fr/
26.02.2013

Christian Delécluse, soirée *di*/zaïn #5 : code… par soireesdizain
28.11.2012
The duo of Hans Leeuw (Electrumpet) / Diemo Schwarz (CataRT) has been chosen as one of 4 winners of the Ircam Forum call for performances (out of 85 submissions) and will be presented in concert:

also playing: Plaid (Warp), Lorenzo Bianchi, Benjamin Carey, Jean Lochard
Gaîté Lyrique, grande salle
3bis, rue Papin
75003 Paris
The duo between Hans Leeuw and Diemo Schwarz creates a dialectic between the age-old gesture of the musician and its digital transformation and critique, a pathway between the acoustic instrument and a recontextualising synthetic interaction at the heart of our times. The duo's focus on expressive play with live sounds happens in two very different ways that happily blend together: Read the rest of this entry »
08.07.2012
Since about 5 years, CataRT is used extensively as a performance instrument by myself and other musicians, and has stabilised and been tried and tested in many performances.  This is why the Inventor Composer Coaction call for new instruments was a welcome occasion to present this instrument to a wider audience, and to advance towards a systematic assessment of how to play and compose with CataRT.
To this end, the CataRT as an Instrument page collects the links to sound and video examples demonstrating CataRT as an expressive performance instrument.
Since CataRT must be seen as a whole family of possible instruments, around the core concept of the timbral sound space that is played by navigation, the actual instrument is determined by the controller that steers the navigation.
27.10.2011
Conference and concert by Diemo Schwarz (live corpus-based concatenative synthesis) with Hans Leeuw (electrumpet).
Part of STEIM's HOTPOT LAB #18, where 4 student projects from this year's HKU instrument design class will be presented.