08.04.2022
Large group improvisation with Grand8 — Grand ensemble de musique improvisée
Avec en invités cette semaine : Loïc Schild (Monkomarok) et Diemo Schwarz (ONCEIM)
8 Avril 19h30 | Session #17
Comptoir de la Victorine, 29 rue Toussaint, 13003 Marseille
Deux petites formes suivies d'une improvisation collective en grand ensemble
23.03.2022
I will play percussion with ONCEIM for  Eliane Radigue's Occam Ocean XXV and electronics at Patricia Bosshard's Sillons at Maerzmusik festival, Berlin Philharmonic.

Éliane Radigue`s first piece for orchestra "Occam Océan" marks the third work period of the music pioneer and is at the same time an example of collective knowledge transfer through oral and aural transmission – embodied and performed by members of Klangforum Wien together with ONCEIM.
The festival is streamed live and archived here.
20.03.2022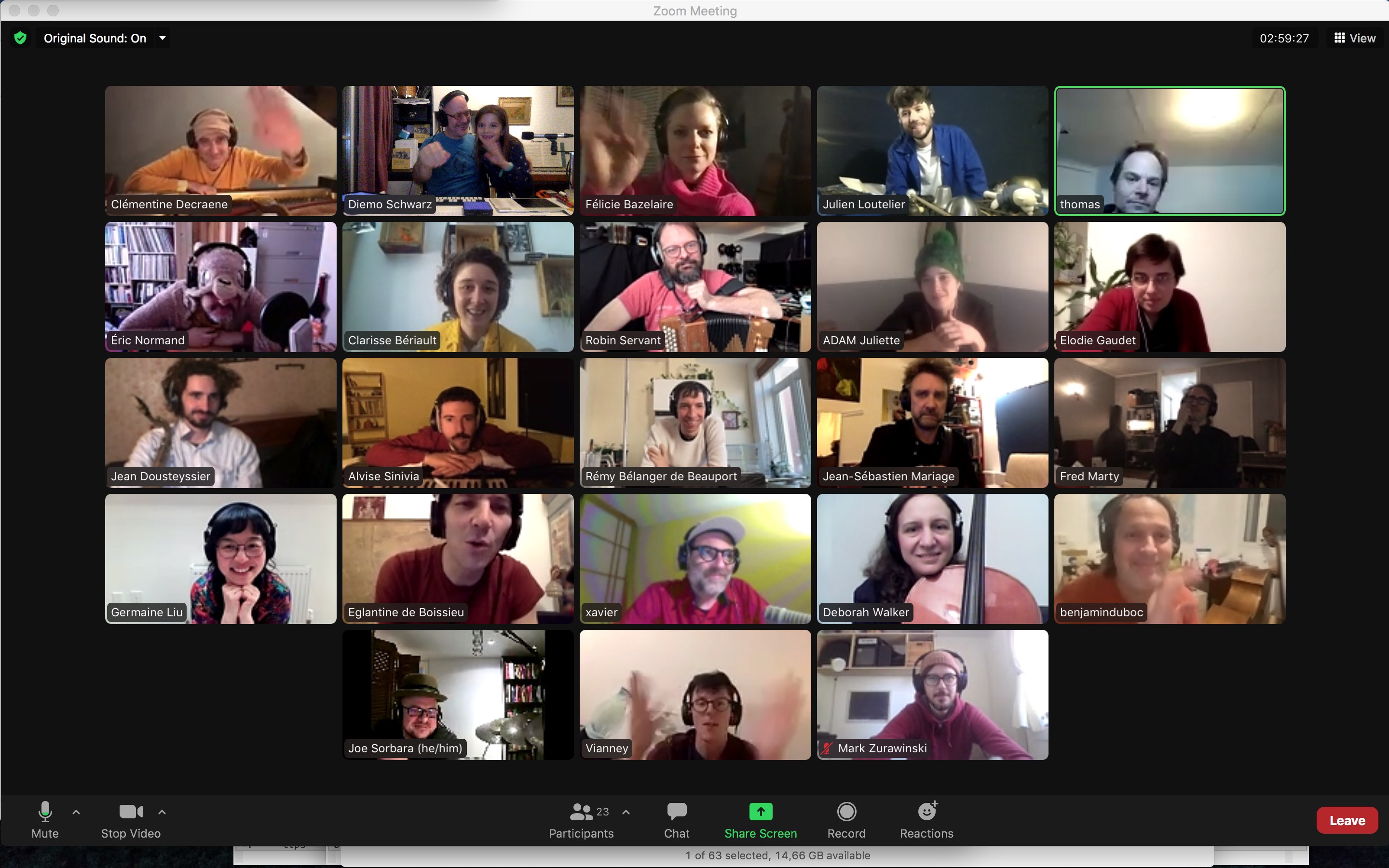 Collective online performance
see the video at Suoni per il popolo festival (Montreal).
Dans le cadre de Grandes Marées, Quarantine Playground de Germaine Liu et Joe Sorbara est une pièce conçue et créée sur Zoom par webcam interposées le 16 janvier 2022, pour être ensuite diffusée sur TéléSuoni, la chaîne du festival Suoni per il popolo (Canada). Découvrez cette nouvelle œuvre collective issue de la collaboration entre l'Onceim et ses confrères canadiens du GGRIL.
La diffusion sera précédée d'un temps d'échange en ligne avec Frédéric Blondy et Joe Sorbara.
> Connectez-vous le 20 mars, à 20h,  pour visionner la retransmission.
19.12.2021
Performance invited by the Saint Louis College of Music, Rome.
Klang
Via Stefano Colonna, 9 ROMA
05.12.2021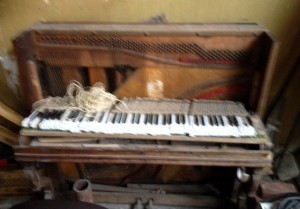 Augmented trumpet, solo, and improvisation with Nicolas Souchal (trumpet), Diemo Schwarz (CataRT)
Also performing: Timothée Quost
On connaît Nicolas Souchal pour son sens de la construction, sa sonorité expressive, et son jeu incluant les techniques étendues de l'instrument.
Diemo Schwarz joue une électronique riche en timbres et textures, générée exclusivement à partir des sons enregistrés pendant la performance, à l'aide de contrôleurs gestuels, rendant ainsi l'expressivité et physicalité à la performance avec l'instrument numérique.
La Guillotine (au fond de Les Pianos)
24 rue Robespierre 93100 Montreuil
M° Robespierre
dimanche 5 décembre 17h
30.10.2021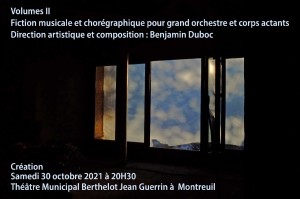 Creation of the piece Volumes II for orchestra and acting bodies by the new ensemble Icosikaihenagone by Benjamin Duboc.
Theatre Berthelot
facebook event
Fiction musicale et chorégraphique pour grand orchestre et corps actants.
La musique est sociale, peut-être rien d'autre que cela ?
Ces volumes d'air dans l'espace, c'est de la place.
Il s'agit de nos places, celles que l'on a, celles que l'on donne et que l'on prend. Un partage de l'espace, un partage de l'air, un partage du temps.
Volumes II propose une cohabitation orchestrée des mondes exprimés par ces volumes mis en vibration.
06.10.2021
Première pièce : L'appel de l'océan, Vincent Laubeuf
Seconde pièce : Tournures cessent orchestrales, Jean-Luc Guionnet
À travers deux créations, Motus et l'ONCEIM proposent de réunir leurs orchestres si particuliers : un orchestre de trente-quatre musiciens expérimentateurs et un autre composé d'un nombre quasi-équivalent de haut-parleurs aux couleurs diversifiées : l'acousmonium. Ces deux formations exploreront ensemble de multiples relations de son et d'espace, passant de la fusion à l'opposition, jouant des densités et des mouvements, pouvant faire passer les sons des instruments pour des sons électroniques et les sons enregistrées pour des sons acoustiques, proposant des paysages sonores réels ou imaginaires…
Motus et l'Onceim ont demandé à deux compositeurs, Jean-Luc Guionnet et Vincent Laubeuf, d'écrire chacun une pièce comme autant de moments d'inventions autour de ce dispositif.
16.09.2021
Spectacle pluri-disciplinaire alliant l'art plastique, le cinéma, la danse, la musique et la poésie. Soleil explore le phénomène de changement permanent d'états intérieurs qui s'opèrent en nous et dont nous n'avons conscience que lorsqu'un nouvel état a modifié notre comportement de façon singulière, l'évolution permanente de l'être, l'accumulation du passé dans l'avenir qui vient densifier le présent et nous pousse vers cet idéal de soi, un état intérieur apaisé, ce soleil idéalisé.
Soleil s'inspire de l'allégorie de la caverne de Platon, les ombres représentent la connaissance imparfaite que les habitants du souterrain ont du monde extérieur.
Dans le théâtre d'ombres, le spectateur voit les ombres portées d'objets intercalés entre la lumière et un écran. L'expression théâtre d'ombres est aussi une métaphore courante pour désigner un simulacre. Les ombres portées sont riches d'associations, permettant allégories et métaphores.

Guylaine Cosseron (voice), Pauline Colemard (dance) Xavier Quérel (visuals), Diemo Schwarz (electronics)
Saturday 18.09.2021 19h DOC, Saint-Germain d'Ectot
https://ccncn.eu/evenement/sauvage-balade-botanique-au-doc-de-saint-germain-dectot
In partnership with Focus Jazz and Centre Chorégraphique National de Caen en Normandie
Sunday 26.09.2021 17H15 Festival MORPHO, église du Sépulcre, Caen
http://lacooperativechoregraphique.org/index.php/morpho-2
04.09.2021
Friday 03.09.2021 19h conference Les chants des baleines, Olivier Adam (bio-acoustician)
Saturday 04.09.2021 16h, 18h underwater concert in the ocean, Aline Penitot (électro-acoustics), Florian Gazagne (basson), Diemo Schwarz (programming)
Sunday 05.09.2021 15h, 17h underwater concert in a swimming pool, Aline Penitot (électro-acoustics), Florian Gazagne (basson), Diemo Schwarz (programming)
https://lestran.net/programmation/inclassable/la-reponse-de-la-baleine-a-bosse/
24.05.2021
Collective improvised creation Laminaire at the 50th Moers Festival, Moers, Germany.
Streamed live and recorded by Arte TV.
18.04.2021
I will play percussion with ONCEIM for  Eliane Radigue's Occam Ocean XXV and electronics at Patricia Bosshard's Sillons at festival Archipel, Palais du Pleinpalais, Geneva.
The festival is streamed live and archived here.
29.10.2020
ONCEIM (improvisation)  & Jacques Perconte (video improvisation):  Gorges Gard
C'est en mélangeant création sonore et vidéo à travers la pratique de l'improvisation que l'ONCEIM propose un nouveau regard sur la création collective.
Musique et images interagissent en temps réel pour donner naissance à de mystérieuses contrées oniriques où nous sommes invités à nous promener à la rencontre d'une faune et d'une flore dont la force poétique est sans cesse renouvelée.
19.09.2020
I will play percussion with ONCEIM for  Eliane Radigue's Occam Ocean XXV at the Wiener Festwochen, Vienna:
Dans le cadre d'une soirée entièrement dédiée à l'oeuvre d'Éliane Radigue, L'ONCEIM jouera Occam Ocean, sa magnifique pièce écrite spécialement pour l'orchestre.
En contraste à cette création récente de la compositrice, François Bonnet (du GRM) présentera Chry-ptus, composée en 1971 sur synthétiseur.
Une conférence aura lieu en début de soirée avec Frédéric Blondy, Deborah Walker (ONCEIM) et François Bonnet (GRM), pour échanger sur la richesse et la multiplicité du travail d'Éliane Radigue.
19.02.2020
Workshop and Dispersion Relation series concert #7 with Glen Hall (Saxophone + Catoracle) and Doug Van Nort (electronics).
Dispersion Lab, Toronto, Canada
15.02.2020
Solo concert and group improvisations at the CCRMIT Workshop: Composing & improvising with information
Interacting with music & sound-related information structures has developed over the last 30 years to encompass a wide variety of compositional and improvisational practices (as exemplified by our guests who are active in free improvisation and composition with CataRT and FluCoMA). This workshop intends to look at current directions in musicological and practical research in the last 14 years, following the review published by Schwarz in 2006 and the interest in databases as new art forms that developed in the mid-1990s. We hope to start a conversation between CIRMMT Research Axis 2 research interests and this range of musical practice. We welcome both research and research-creation presentations. The morning session will be dedicated to formal presentations and the afternoon session to hands-on activities and a round table. The day's workshop will be followed by a concert in the evening.
This workshop will include the participation of two special guests:
Casa Obscura, Montreal, Canada
19.01.2020
Two part concert by 30-piece ensemble ONCEIM with Sillons by Patricia Bosshard, followed by the improvised piece Laminaire #19.
"Avec ces diverses cellules et leurs variations je composerai une pièce répétitive qui, dans sa forme, passera de l'individu au grand orchestre en passant par des groupes et sous-groupes réunis par affinités de matériau, de timbre, de son ou de volume. Points de rencontres, de superpositions, de divergences."
Patricia Bosshard
La Marbrerie, 21 rue Alexis Lepère
93100 Montreuil
11.12.2019
ONCEIM (Orchestre de Nouvelles Créations, Expérimentations et Improvisations Musicales) at La Dynamo in Pantin for 2 evenings with guests:
Thu 11.12.
Kaffe Matthews solo, ONCEIM + Phil Minton + Audrey Chen
Fri 12.12.
Maya Dunietz solo, ONCEIM + Jacques Perconte (video)
05.12.2019
Concert with Victoria Johnson (electro-acoustic violin), Diemo Schwarz (CataRT live corpus-based concatenative synthesis) at Café MIR in Grünerløkka Lufthavn, Oslo, Norway.
30.10.2019
In collaboration with the Cultural Services of the French Embassy in the United States, the Georgia Tech School of Music is establishing strong links in research and education with France's IRCAM Institute.
IRCAM researcher and musician Diemo Schwarz will perform a concert with electronic musician and Georgia Tech researcher Grace Leslie. During this performance, brain waves will steer the musical voyage through a landscape of sounds and tangible embodied interaction will articulate and reshape the musical material.
France-Atlanta festival, Oct 30, 7:00 PM, West Village Room 175, Georgia Tech, http://france-atlanta.org/
28.09.2019
Paris première of the piece Octave-S (fission-fusions) written by canadian turntablist Martin Tétreault for ONCEIM.
"L'ONCEIM a passé commande au platiniste Martin Tétreault pour la pièce Octave-S (fission-fusions) de 45 minutes qui est une mise en espace d'une octave musicale. La construction de la structure sonore utilise les concepts de l'harmonie, de la mélodie, de la consonance et de la dissonance."
28.9.2019 Crak festival #8, St. Merri, Paris