Audio
tools for audio processing, sound analysis–synthesis, music making
23.11.2014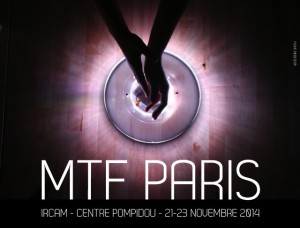 At the bustiling three-day Music Tech Fest in Paris, 21.–23.11.2014, there will be a CataRT showcase-cum-concert at 18:00, where Diemo Schwarz will be improvising with the sounds produced by the audience. Read the rest of this entry »
30.06.2014
Create music and graphic animation with expressive gestures, mold sonic landscapes by plowing through tapioca beads with the Dirty Tangible Interfaces!
DIRTI is installed at the 14th International Conference on
New Interfaces for Musical Expression (NIME)
30 June – 4 July 2014
New Academic Building, 1st floor Mezzanine, Goldsmiths, University of London.
10.01.2014
DIRTI for iPad, the world's first tapioca interface, lets young children control an audiovisual experience by playing with a bowl of tapioca.
The project has been nominated for the prestigious IxDA interaction design awards, and the people's choice award is now open for voting by going to http://awards.ixda.org/entry/2014/dirti-for-ipad/vote.
17.07.2013
Dirty Tangible Interfaces (DIRTI) are a new concept in interaction design that forgoes the dogma of repeatability in favor of a richer and more complex experience, constantly evolving, irreversible & infinitely modifiable. The video resuming 4 days of experimentation with a tangible interface and iPad app specially designed for kids at the Maison des Petits of the cultural centre CENTQUATRE in Paris is now online.
08.07.2012
Since about 5 years, CataRT is used extensively as a performance instrument by myself and other musicians, and has stabilised and been tried and tested in many performances.  This is why the Inventor Composer Coaction call for new instruments was a welcome occasion to present this instrument to a wider audience, and to advance towards a systematic assessment of how to play and compose with CataRT.
To this end, the CataRT as an Instrument page collects the links to sound and video examples demonstrating CataRT as an expressive performance instrument.
Since CataRT must be seen as a whole family of possible instruments, around the core concept of the timbral sound space that is played by navigation, the actual instrument is determined by the controller that steers the navigation.
12.02.2012
Dirty Tangible Interfaces are a new concept in interaction design that forgoes the dogma of repeatability in favor of a richer and more complex experience, constantly evolving, irreversible & infinitely modifiable.
Dirty Interfaces is a concept by Matthieu Savary & Denis Pellerin. Movement analysis and CataRT sound synthesis by
Diemo Schwarz. Developed within the Topophonie project.
11.02.2012
CataRT has been chosen out of 29 submissions of new musical instruments by 2 upcoming composers within the Inventor Composer Coaction.  Jessica Aslan and Christos Michalakos will both write a piece for CataRT and the Red Note ensemble, to be premiered May 9 in Edinburgh.
05.10.2011
Nat Roe at cult freeform radio station WFMU has discovered CataRT in this blog post about chartsweeps (mashups of years of Top-10 songs compressed into one piece of music (? / sound / deflagration?)).
26.08.2008
Mac command line program that fixes the header of a (possibly multi-channel) soundfile written with Max's sfrecord~ but not correctly closed (because of a crash), and that therefore reports 0 length in the header, although the file size is large.
I give no guarantee whatsoever that it won't corrupt your files, eat your harddisk, and poison your kittens, so backup your files before you apply the program!
Compiled for MacOSX intel: aiff-fix-length
Source code (given to the  public domain): aifffixlength.c
31.08.2005
The real-time corpus-based concatenative sound synthesis system CataRT plays grains from a large corpus of segmented and descriptor-analysed sounds according to proximity to a target position in the descriptor space. This can be seen as a content-based extension to granular synthesis providing direct access to specific sound characteristics.
CataRT is implemented in MaxMSP and takes full advantage of the generalised data structures and arbitrary-rate sound processing facilities of the FTM and Gabor libraries. Segmentation and sound descriptors are loaded from text or SDIF files, or analysed on-the-fly.
CataRT allows to explore the corpus interactively or via a target sequencer, to resynthesise an audio file or live input with the source sounds, or to experiment with expressive speech synthesis and gestural control.
CataRT is available from the IRCAM Real-Time Musical Interactions Team's web site.