Other Projects
06.12.2015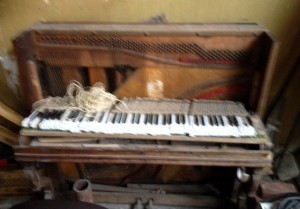 Improvisation with Nicolas Souchal (trumpet), Fred Marty (double bass) and Diemo Schwarz (gesture-controlled CataRT)
On connaît Nicolas Souchal pour son sens de la construction, sa sonorité expressive, et son jeu incluant les techniques étendues de l'instrument.
Fred Marty développe un langage personnel, faisant oublier par moment la contrebasse, s'attachant à penser l'instrument dans sa globalité physique.
Diemo Schwarz joue une électronique riche en timbres et textures, générée exclusivement à partir des sons enregistrés pendant la performance, à l'aide de contrôleurs gestuels, rendant ainsi l'expressivité et physicalité à la performance avec l'instrument numérique.
La Guillotine
24 rue Robespierre 93100 Montreuil
M° Robespierre
dimanche 6 décembre 17h
Paf 7€
facebook event
20.11.2015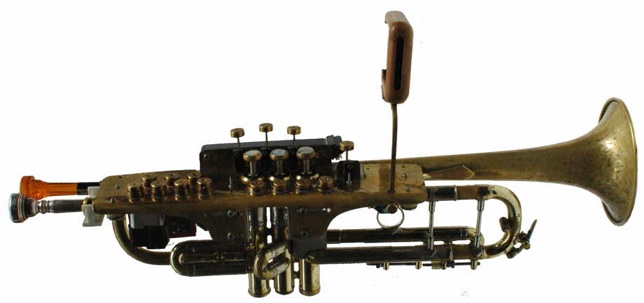 Three electro-acoustic instrumentists meet for a one-time encouter at cozy Tiasci with its delicious indian-inspired buffet and fabulous Ti-Punchs by Pascal Golem.
First part: 2 duos (Leeuw/Schwarz, Leeuw/Caserotto), second part: trio Leeuw/Caserotto/Schwarz.
Hans Leeuw's Electrumpet is a hybrid electroacoustic instrument intimately combining trumpet playing and intuitive control of digital sound processing. It won the 2013 Margareth Guthman competition of the world's most innovative musical instrument.Hans and Diemo's duo was winner of the Ircam-Live call for performances in 2012.
Giani Caserotto's electric guitar playing intimately combines the virtuosity on the strings with mastery of analog/digital effects pedals.
Diemo Schwarz's CataRT software is fed by the sound happening during the performance, and brings them back to life through physical gestural controllers, reconquering the expressiveness lost in most laptop performances.
Tiasci – improvisation libre, musiques traditionnelles
13 rue de l'aqueduc, 75010 Paris, France
20:30, P.A.F. 10€
facebook event
Read the rest of this entry »
25.10.2015
Le lieu d'un autre centre
Frédéric Blondy, Piano / Diemo Schwarz, Electronique
Festival Densités, Fresnes-en-Woevre
Frédéric Blondy aime le piano dans tout ses états. Après l'Onceim et pour ce retour à l'intime nous voici dans un dispositif vraiment passionnant où tout le corps et tous les matériaux du piano sont en jeu. Diemo Schwartz, musicien et chercheur à l'Ircam, récupère les sons produits en temps réel. Ce système mis au point par Diemo lui-même permet d'ouvrir de nouveaux horizons sonores. Il est ici question de synthèse concaténative et de composition granulaire ciblée… Termes mystérieux pour le néophyte… L'essentiel étant que cet « autre centre » nous ouvre d'immenses strates sonores avec le bonheur de perdre ses repères.
23.10.2015
Collective improvisation resulting from a three day residency of the Orchestre de Nouvelles Créations, Expérimentations et Improvisations Musicales (ONCEIM) at the festival Densités in Fresnes-en-Woevre.
Also playing:
Liz Allbee
Kimmig-Studer-Zimmerlin+John Butcher
…LA ROSE DES VENTS… Lionel Marchetti
08.10.2015
After-work digital/analog duo Diemo Schwarz/Arnaud Rivière and collective improvisation of the Orchestre de Nouvelles Créations, Expérimentations et Improvisations Musicales (ONCEIM) at the festival Le Classique c'est pour les vieux under the arches of former monastery L'Archipel.
Full program here.  Jeudi 8 octobre 2015, à partir de 18h
After-work musical dédié à la scène contemporaine et expérimentale. Un enchaînement de concerts courts et une multitude de scènes réparties dans la nef de l'Archipel !  facebook event
Iris Zerdoud, cor de basset et Henri Deléger, trompette, solistes de l'ensemble Le Balcon, Nathalie Forget, ondes Martenot, Spat'sonore, trio Blondy/Laurain/Rives, ONCEIM, Vassilena Serafimona, percussions,  Acousmonium Alcôme, Zoor (Denzler/Gerbal/Mariage), Duo electro (Riviere/Schwarz)
L'Archipel, 26 bis rue de Saint-Pétersbourg, 75008 Paris
24.06.2015
Théatre-opéra–performance–poésie-impro: La passion de St. Mathieu mise en sceène par Jacques Mérienne avec les musiciens de l'ONCEIM et les chanteurs et comédiens de la PETITE TROUPE.
Jacques Mérienne, le curé sortant de Saint-Merri, est également un metteur en scène de théâtre contemporain. Il a mis en scène un grand nombre de projets depuis le début des années 70. Il a également collaboré avec plusieurs réalisateurs de cinéma de la nouvelle vague (en tant qu'assistant metteur en scène) et a avec des musiciens, parmi eux il y a eu Steve Lacy, Joelle Léandre, Lê Quan Ninh,…
24.–26.6.2015 20:30 eglise Saint-Merri

Les Rendez-Vous Contemporains
facebook event
14.06.2015
(Vinyl) album release concert of the piece Gruidés by Stephen O'Malley for ONCEIM, and:
e-SaxBow (Florent Colautti, François Wong)
Hubbub (Blondy, Denzler, Guionnet, Mariage, Perraud)
Les Rendez-Vous Contemporains
facebook event
09.06.2015
Improvisation with Fred Marty (double bass), Diemo Schwarz (gesture-controlled CataRT), Yashio Ren (voice).
1st set: Yashio Ren (voice), Jac Pochat (sax), Simonetta Parisi (piano)
TIASCI
13 rue de l'AQUEDUC
75010 Paris
Métro: Gare du Nord
02.06.2015
Improvisation with Fred Marty (double bass), Diemo Schwarz (gesture-controlled CataRT), Patrice Cazelles (words).
1st set: Aymeric Avice (trumpet), Fred Marty (double bass) John Niekrasz(drums)
TIASCI
13 rue de l'AQUEDUC
75010 Paris
Métro: Gare du Nord
30.05.2015
Le concert de Soli X Ilos avec TWNO est annulé faute de budget, mais le Festival Imprudences a bien lieu avec des concerts fascinants:
Morton Feldman, Tiziana Bertoncini, Thomas Lehn, William Tatge,   Elio Martusciello, D'Incise, Cyril Bondi, Frederick Galiay, Maya Bösch, Allen Ginsberg, Nosferatu, Massimo Carrozzo.
07.05.2015
Julie Bertuccelli, présidente de la Scam, et Emmanuelle Gibello ont le plaisir de vous inviter à la soirée 2π4evR_2.2, une performance sonore d'Emmanuelle Gibello, lauréate de la bourse « Brouillon d'un rêve » de la Scam*, interprétée par Emmanuelle Gibello, Olivier Guillerminet et Diemo Schwarz.
2π4evR est un rite initiatique décrit dans une partition évolutive, joué, entre autres, sur Le Molf*, instrument développé par Emmanuelle Gibello qui se joue à la toupie.
Les trois interprètes Olivier Guillerminet, Diemo Schwarz et Emmanuelle Gibello créent une enveloppe sonore, un voyage dans un paysage mental chaotique. Emmanuelle Gibello revisite l'espace sonore urbain afin d'éveiller une autre perception de la symphonie complexe du monde contemporain.
17.04.2015
premiere de COMPOSITION NO. 19 (30 mn) de Pierre-Antoine Badaroux et une création collective de l'ONCEIM (30 min).
COMPOSITION NO. 19
Le poncif de l'orchestre comme un (grand/gros) instrument. Un seul instrument qui serait – comme un orgue – constitué de plusieurs petits émetteurs et par extension, l'image du compositeur jouant de l'orchestre comme d'un instrument.
La Composition No.19 prend ce lieu commun au pied de la lettre en organisant une empreinte de ce gros instrument. C'est à dire ce que fait chaque musicien lorsqu'il prend possession d'un nouvel instrument : une grande gamme qui en parcourt la tessiture pour en apprécier (entre autres choses) la régularité ou l'irrégularité, les changements de timbre dus à une facture forcément imparfaite, les "bosses" et les "creux", les différentes qualités de projection et de résonance.
15.11.2014
Les pros de l'impro donnent une leçon aux élèves du conservatoire de Clamart, puis se donnent en spectacle au grand complet, soit plus d'une vingtaine de musiciens sur scène!
Grand ensemble de musiciens improvisateurs, l'Orchestre de Nouvelles Créations, Expérimentations et Improvisations Musicales (ONCEIM) entend porter haut et fort la voix d'une musique contemporaine atypique.
Créé et dirigé par le pianiste improvisateur Frédéric Blondy, l'ONCEIM rassemble des instrumentistes de haut vol,
membres de formations reconnues et exigeantes venant d'horizons musicaux hétéroclites : musique improvisée, jazz, musique classique et contemporaine, rock et musique expérimentale.
28.10.2014
A concert in the nicest and oldest impro place in Amsterdam: Zaal 100.  facebook event
PA Tremblay (electrique bass + electronics, Huddersfield)
Diemo Schwarz (Gesture controlled CataRT, Paris)
Stephan Reidl (acoustic bass + electronics)
Dirk Bruinsma (sax + electronics)
Hans Leeuw (electrumpet)
Alan Purves (percussion)
Read the rest of this entry »
25.09.2014
Festival Crak des musiques affranchies – 3rd edition
25–27 september 2014 @ Saint-Merri church (Paris)
http://crakfestival.com/ — facebook event
Spectacular edition uniting 3 orchestras and John Tilbury  to play Cage and Feldman, Michel Doneda, Le Quan Ninh, Metamkine, Stephen O'Malley, Ingar Zach, Kim Mhyr, Thomas Lehn, Oiseaux Tempêtes, Tim Hodgkinson, Roger Turner, and many others…
29.06.2014
Improvisation with Fred Marty (double bass) and Diemo Schwarz (gesture-controlled CataRT) at 17h30
La Guillotine, 24 rue Robespierre, Montreuil
Full line up: Read the rest of this entry »
27.06.2014
Concert of the Orchestre de Nouvelles Créations, Expérimentations et Improvisations Musicales (ONCEIM) at Les Rendez-vous Contemporains, Saint-Merri church.
Two new pieces Morph by Bertrand DENZLER and
Encore by Arnaud RIVIÈRE, followed by a collective improvisation.
13.06.2014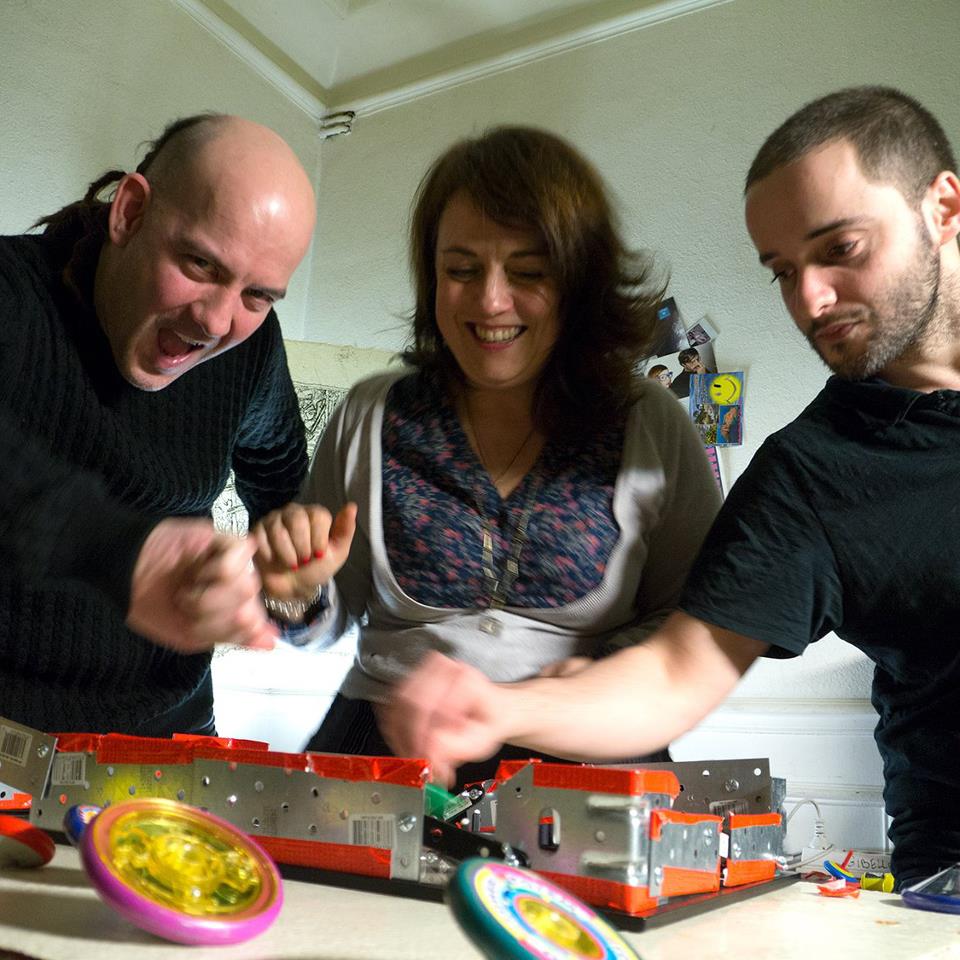 Concert by Emmanuelle Gibello, Olivier Guillerminet, Diemo Schwarz and the pupils of Lycee Colbert, interpreting the piece 2π4evR by Emmanuelle Gibello on each performers' own (software) instrument and Emmanuelle Gibello's spinning-top instrument called the Molf:
Chaque joueur a le choix de ses armes, il utilise ses propres machines, instruments et sons. Le tout est décontrôlé lors de batailles à la toupie sur Le Molf, la nouvelle machine imaginée par Emmanuelle.
16.05.2014
Festival Imprudences
Concert with MASSIMO CARROZZO clarinette – LAURENT HOEVENAERS violoncelle – HAMPUS LINDWALL orgue - PASCAL MARZAN guitare – JOAKIM SANDGREN percussion – DIEMO SCHWARZ électronique
support: SOPHIE AGNEL piano – MICHEL DONEDA saxophone
28.03.2014
Concert in quintet with Massimo Carrozo (clarinet), Laurent Hoevenaers (cello), Parcal Marzan (guitar), Joakim Sandgren (percussion), Diemo Schwarz (live CataRT), St. Merri church.