Saturday 30.10.2021 20:30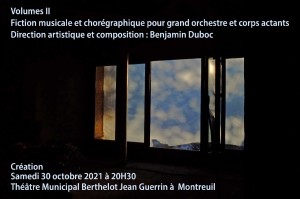 Creation of the piece Volumes II for orchestra and acting bodies by the new ensemble Icosikaihenagone by Benjamin Duboc.
Theatre Berthelot
facebook event
Fiction musicale et chorégraphique pour grand orchestre et corps actants.
La musique est sociale, peut-être rien d'autre que cela ?
Ces volumes d'air dans l'espace, c'est de la place.
Il s'agit de nos places, celles que l'on a, celles que l'on donne et que l'on prend. Un partage de l'espace, un partage de l'air, un partage du temps.
Volumes II propose une cohabitation orchestrée des mondes exprimés par ces volumes mis en vibration.
Création samedi 30 octobre 2021 à 20h30
Théâtre municipal  Berthelot – Jean Guerrin.
6, rue Marcellin-Berthelot 93100 – Montreuil.
Direction artistique et composition : Benjamin Duboc.
Ensemble Icosikaihenagone  : Émilie Aridon-Kociolek (piano), Sylvain Kassap (clarinettes), Jean-Luc Petit (clarinette contrebasse saxophones), Jean-Luc Cappozzo (trompette), Franz Hautzinger (trompette), Christiane Bopp (trombone), Alexis Persigan (trombone), Jean Daufresne (tuba), Guylaine Cosseron (voix), Claire Bergerault (voix et accordéon), Jean-Sébastien Mariage (guitare), Patricia Bosshard (violon), Mathias Naon (violon), Cyprien Busolini (alto), Gaël Mevel (violoncelle), Sébastien Beliah (contrebasse), Dorian Marcel (contrebasse), Thierry Waziniak (percussion), Amélie Grould (percussion), Diemo Schwarz (électronique).
Valérie Fontaine, Valérie Blanchon, Giuseppe Molino (corps actants).
Françoise Michel (lumières), Benoit Spinga (scénographie).
Benoit Spinga, Benjamin Duboc (textes).
Production Association Volumes, Coproduction TMB-Jean Guerrin et Darktree.
Soutiens DRAC Île-de-France,  Up Up and away.