Wednesday 06.06.2012 20:00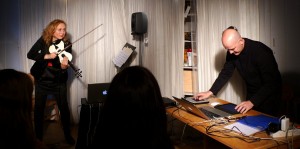 Concert for the release of  Victoria Johnson's new CD  Suspended Beginnings at Drivhuset, Oslo, Norway. With Victoria Johnson (electric violin), Diemo Schwarz (CataRT live corpus-based concatenative synthesis), Peter Tornquist (laptop)
Cato Langnes.
Improvisations and pieces by Alwynne Pritchard: To the Ground and Knut Vaage: Electra.
See more images.